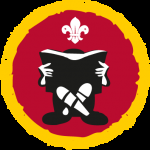 It's Badge time!
We'll be focusing on the Book Reader Activity Badge shortly starting with a visit to the local library.
The badge requirements are as follows:
(1) Make a list of at least six books read or used recently. Name their authors and be able to tell the leader or other members of the Pack something about three of the books. The three books chosen should include at least one fiction and one non-fiction book.
(2) Understand and know how to care for your books.
(3) Show that you can use a dictionary and thesaurus (Pre 2015 – this was dictionary, encyclopedia and an atlas)
(4) Write a review of your favourite book and share it with your Sixer, an Explorer Scout Young Leader or your Cub Leader.